Provided you are an administrator for your Office 365 account, you can view information about your SharePoint Online storage in the SharePoint admin center. You can access the admin center by going to the Office 365 portal and clicking the tile that says Admin. Then, select SharePoint under Admin centers on the left side.
On the main page of the SharePoint admin center, you can view your overall storage limit and what portion of that storage space you have assigned to your various site collections.
You can also see the amount of storage assigned to each site collection and what percentage of that has been used.

If you need to purchase more storage, you can click on Buy Storage at the top.

When you would like to change the storage for a particular site collection, select the check box to the left of the site collection and then select Storage Quota at the top. You can then increase or decrease the storage for that site collection. Note that this is also where you can set up an automatic email to be sent out when your storage reaches a certain percentage of the limit.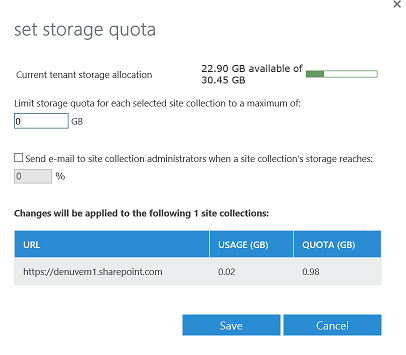 If you would like to see how much storage the various elements of your site collection are using, you will need to navigate to that site collection. Click the gear in the upper right corner, and select Site Settings.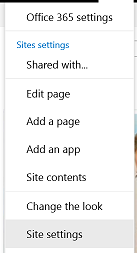 Select Storage Metrics from the Site Collection Administration menu.