SharePoint Online Implementations
The first thing our clients usually think of when we talk about SharePoint Online is the ability it gives them to store their files in the cloud.  SharePoint Online and the associated OneDrive for Business are indeed excellent solutions for this. They have useful document management features such as automatic versioning, you can share materials with clients and other people outside your organization, and you can access your files from any device or even have a synced local copy that you can use offline.  And we're always happy to help you get all of your files migrated into SharePoint Online or OneDrive.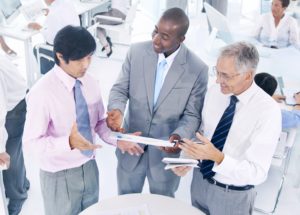 But SharePoint Online can do much more than just store your documents.  You can bring together many other types of information in SharePoint.  You may have inventory data, contact lists, project tracking, or even emails that would be helpful to have in a central location for your entire team to easily access.
SharePoint can also be used to help reduce manual or duplicative tasks for your team. Workflows can automatically route files for review or create tasks for users, alerts can notify team members when new information is added, and forms can uniformly collect data.
We go through our client's business processes and pain points in detail with them, put together recommendations for how SharePoint and Office 365 can alleviate issues and streamline work, get the pieces they would like to move forward on in place for them, and of course provide training to their team on the new system.
If you would like to see a quick demonstration of some of SharePoint's capabilities or talk about how it might benefit your business, please contact us.